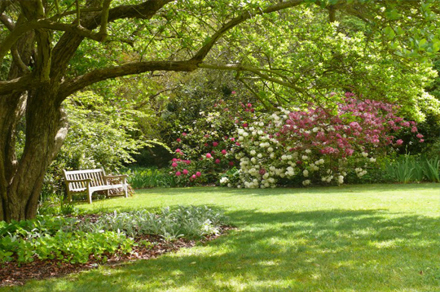 Today landscape architects in Sydney have a huge variety of stunning native and indigenous plants to choose from and a rich history of Australian landscape design to draw upon, where the climate and lifestyle drove the development of Australian garden design.
It didn't take long for earlier Australian landscape designers to embrace our warmer climate. In the second part of this series on landscape architects in Sydney we take a look at the lasting influence that Edna Walling has had on Australian landscape architects.
By the 1920's Edna Walling, born in Devonshire England, was an early promoter of the use Australian native plants in gardens, parks and street planting and became one of Australia's most influential landscape designers. Edna Walling transformed Australian's ideas about gardening and the garden's integral relationship with the house. Walling's landscape designs developed from the English style epitomised by English landscape designer Gertrude Jekyll. Walling was also greatly influenced by Spanish and Italian gardens with their use of stone and water, terracing, pergolas, courtyard and paving. Walling considered protection from the hot winds to be an essential design consideration for Australian gardens.
We can readily identify principles in use by Australia's landscape architects today with many of those of Edna Walling's:
• Work with the existing landscape and its natural features
• Create unity between the house and the garden
• Use architectural principles to structure the garden and soften with dense planting
• Use Australian native plants and those indigenous to the area
• Individual landscape design for each house and the specific needs of the client
• Landscape design for low maintenance gardening
Edna Walling was renowned for her use of stone and water, terracing, stone steps, pergolas, courtyards and paving, with protection from hot winds as an essential element for creating comfortable living environments. Walling created rooms in her garden designs, using pathways to connect these garden rooms to create a sense of romance. The garden rooms were designed to fulfil various functions, both practical and whimsical. There were rooms for vegetable gardens, rooms for quiet rest, formal spaces and shady retreats. Walling advocated that every room in the house should have a view of the garden, creating a connection with the house to the garden and promoting a restful, peaceful atmosphere.
Creating outdoor rooms, connecting the indoors and outdoors, entertainer's courtyards and shady terraces are all in the mix of current designs by landscape architects in Sydney, with sustainability and climate control as important concerns. The ideas and landscape designs of Edna Walling have lived on and her influence on contemporary landscape design can be seen today.
The design team at Living Colour Landscapes are expert landscape architects and designers specialising in transforming outdoor gardens, courtyards and spaces throughout Sydney. Visit our site to learn more about our landscape architects or contact us about your upcoming landscaping project.