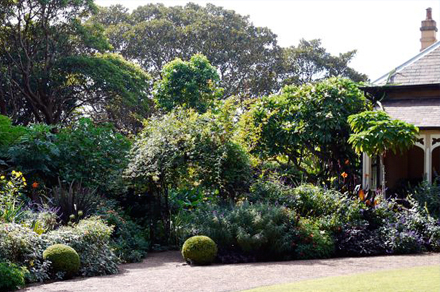 Landscape architects in Sydney can draw upon a rich heritage of landscape design from the earliest colonial gardens, hugging the shores of Sydney Cove, to Edna Walling's early work with native plants in the 1920's, and through to the Australian Natural Garden Style explored by Bruce Mackenzie, Harry Howard and Allen Correy in the 1960's and 70's.
In the first of this series we'll take a look at the first landscape design influences for today's landscape architects in Sydney, where we find the English traditions of the day overlaid with the realities of early colonial life.
By necessity the fledgling years of early white settlement in Sydney Town saw the earliest gardens constructed with simple geometry. Straight walks, shrubberies and hedges complemented the ordered simplicity of Georgian architecture. Vegetable gardens and fruit trees were a necessity and incorporated into the design. Today's landscape architects in Sydney have re-imagined the vegetable gardens and fruit orchards of yesteryear incorporating them into vertical and rooftop gardens.
As the colony prospered the influence of the Landscape Movement, begun in England by Capability Brown and Humphrey Repton grew, and the front gardens of Sydney's more substantial houses began to show a freer landscape design style with wide lawns and clumped trees. Flower, fruit and vegetable gardens still remained sizable however, and often were intermingled into the garden design. Native trees were retained to frame the villas at a distance and Aracaurias or Hoop Pines were used as sentinel feature trees to announce a villa. There is still evidence of Araucarias on hills in outer Sydney suburbs on the Cumberland Plains, where once a colonial estate stood.
The Picturesque Movement was a transitional phase bridging the Georgian and Victorian taste. The style promoted textures, character and picturesque effects. It required interest at every turn, punctuating the soft contours of the Landscape style. Artifice replaced pastoral harmony, with elaborate water features and arbors being particularly favoured. The Picturesque style was a good fit to the scale of colonial dwellings and their often sublime settings overlooking Sydney Cove. Vaucluse House, Bronte House, Elizabeth Bay House and the Conservatorium of Music adjacent to the Botanical Gardens are good examples.
The early days of white colonial landscape design in Sydney have a wealth of historical information to inform and inspire landscape architects in Sydney practising today. Taking the spirit of some of our early colonial gardens and playing with the form and planting palette landscape architects are exploring new interpretations of those first Sydney colonial gardens and re-inventing the Australian garden.
The design team at Living Colour Landscapes are expert landscape architects and designers specialising in transforming outdoor gardens, courtyards and spaces throughout Sydney. Visit our site to learn more about our landscape architects or contact us about your upcoming landscaping project.