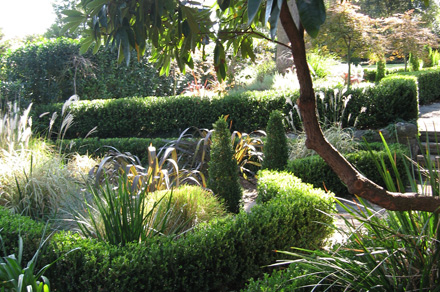 Ever wondered how landscape designers come up with garden designs? Here's an interview with Steve Oatley that demystifies the design process and construction of a large garden on the North Shore in Sydney.
Who designed the garden?
Steve Oatley of Living Colour Landscapes.
Who constructed the garden?
The construction team at Living Colour Landscapes.
What was the brief from the homeowners?
To tie the dwelling into the landscape and create intimate areas within the vastness of the property. The owner, who had studied horticulture had a special fondness for classic design and grasses.
How would you describe the design/style of the garden?
Classical
What do you think are the key features?
Architectural planting, hedging, creating framed backdrops from key positions
Were there any special challenges? How were they overcome?
Creating new levels without damage to the mature trees. Using sleepers for machinery to move over and the careful layout of routes to move the machinery around.
What plants were used, where and why?
Syzigium Southern Aussie – light green and bright foliage for a dark space.
Murraya paniculata – dark green and dense hedging for lighter areas.
Magnolia Little Gem – to frame features and windows.
A variety of Grasses to break up the formality and create movement.
Several varieties of Jasmine to accentuate walls.
Cordyline – to add colour and impact.
Silver Dragon – to lift the ground plane.
Maples and Rhododendrons – to form density and interest.
Mondo Grass – to provide rhythm.
What paving was used?
Sandstone flagging
What fencing was used?
Colour rendered brick walls and sandstone walls.
What form of retaining wall was used? What type/colour of special treatment, such as rendering?
Triple brick colour rendered with a soft oxide base.
Any other comments you'd like to make?
The garden is a typical classical North Shore garden and looks beautiful in Autumn when the Maples and other varieties of deciduous trees are ablaze with colour. The large, established Eucalypts on the property were the pivotal design elements that were the existing 'bones' of the original garden.
The garden was redesigned around the existing house, designed and built in the 1940's, which lent itself to a classical, romantic garden design, with sweeping hedges of Box and topiary planting at strategic points along the sandstone flagged pathways.
Outdoor rooms were created with taller hedging plants to echo the home's architectural elements and create backdrops for colourful sculptural plants and a large variety of native and exotic grasses.