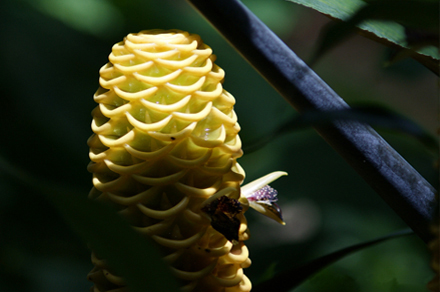 As Sydney landscape designers, we decided to escape the wonderful bustle of the city over the New Year – and we found ourselves at a beautiful retreat in the rainforest hinterland surrounding Byron Bay.
We work long and hard as landscape designers, and thanks to the January floods, we were happily marooned for several days at the relaxing retreat (though our heart went out to those who had it tough in the floods).
Nevertheless, the trip gave us the opportunity to recharge our batteries, connect with the lush tropical rainforest and gardens and appreciate the amazing architecture the natural world has to offer.
The rainforest proved to be a great source of inspiration for our landscape design ideas and techniques. The stimulating and various colours, angles, shapes and combinations were truly a visual feast of natural diversity and design.
The small cottage where we stayed was constructed of recycled materials and was a fantastic working example of sustainable design, which excited us greatly as passionately environmental landscape designers. Other eco-friendly features included a composting toilet, several rainwater tanks and a range of solar panels that were sufficient enough to accommodate all power needs.
We soon discovered that all of the structures and landscaping at the retreat had been designed with sustainability at the forefront.
The owner of the retreat is an avid plant collector and the impact and variety of flowering tropical plants made for a stunning pallet against the backdrop of various palms, such as Flame Thrower palms, Fish Tail palms, Blue Figs and towering, magnificent Red Cedars. The garden design was loose in structure, but followed the landscape designer's rulebook for landscaping on large properties in rural areas.
Close to the house, the gardens were structured in a curvilinear layout, with a rich tapestry of low-growing understorey plants that consisted of interesting foliage and flowers. This was punctuated with selected specimen trees to create structure, rhythm and proportion throughout the property.
Further away from the cottage, taller palms and trees were grouped more loosely and densely along paths, which eventually lead to the creek and the restored section of the natural rainforest. In short, the entire area was a landscape designer's dream!
During the day, we wandered through flourishing gardens and discovered brightly coloured Heliconias in full bloom. We found Heliconia Rostratas in golden yellows and reds and they were so distinct in shape that they resembled parrot beaks. We also stumbled across incredible beehive gingers, which were soft and golden too and looked like they had been subject to their own amazing landscape design; the intricate hexagonal configuration of the gingers drew insects into their magnificent multi-faceted cavities, contributing as a whole to the rich ecology of the tropical gardens.
Tropical rainforests are a wonderful, working example for landscape designers and our stay at the rainforest retreat provided us with much inspiration for our tropical garden landscape designs. Many of the beautiful tropical plants we discovered at the retreat are suitable for creating micro-climates in Sydney gardens and we are excited about exploring and adapting selected varieties into some of the landscape design projects we are currently working on.
Living Colour Landscapes is an expert landscape designer and architect service specialising in transforming outdoor gardens, courtyards and spaces throughout Sydney. Visit our site to learn more about our landscape design services or contact us about your upcoming landscaping project.