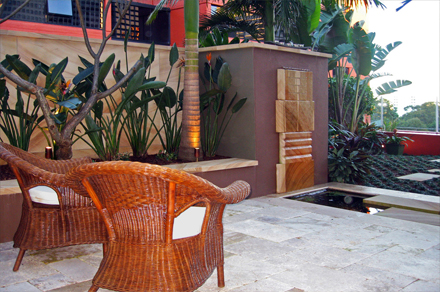 In Sydney's mild, sub tropical climate, the most successful garden and courtyard design by landscape designers use the possibilities of space and borrow from the surrounding geography to create a natural connection between house, garden and the vista beyond.
Taking the cue from the home's existing internal materials and colour schemes, landscape designers can create a perfectly married indoor/outdoor living environment. Subtle textural changes in the same material give us the opportunity to define spaces and create beautiful looking finishes.
Landscaping with natural materials
Some of the most powerful design elements available to Sydney landscape designers are the rich sources of material found naturally in the surrounding terrain. Using one or more as dominant features can help create a real connection to the streetscape and landscape.
How local materials were used in North Sydney landscaping
This apartment courtyard was designed by Sydney landscape designers, Living Colour Landscapes. The courtyard features local sandstone in a variety of guises to compliment the original heritage sandstone cottage and reference the steep sandstone geography of the suburb and surrounding Lower North Shore.
Rock faced and gang sawn cut Sydney sandstone has been offset on opposing walls to form two water features that trickle down the walls into a still pool. This effectively divides the courtyard space as well as framing the garden and iconic Sydney Harbour in the background. Beyond, sandstone slabs meander through a carpet of Mondo Grass to the less formal second courtyard. Lush tropical planting creates a green backdrop to a third water feature and the harbour and city beyond.
Travertine marble used indoors and outside
The courtyard paving of rough hewn travertine marble flows on from the interior polished travertine marble floors. The colour scheme of nutmeg, grey/green and a punch of vibrant orange takes its cue from the interior design.
A tranquil haven in the heart of bustling Sydney
In this home landscape designers, Living Colour Landscapes have managed to create an easy relationship between the internal living areas and the courtyard – a much used area for entertaining, relaxing or simply enjoying the stunning Sydney harbour views. The neon lights of North Sydney and the city beyond make a breathtaking night time backdrop.
The repetition of materials and subtle variations on a theme create an intriguing overlay. At the same time, they enhance the apartment's allure as a tranquil haven from the bustling Sydney metropolis beyond.