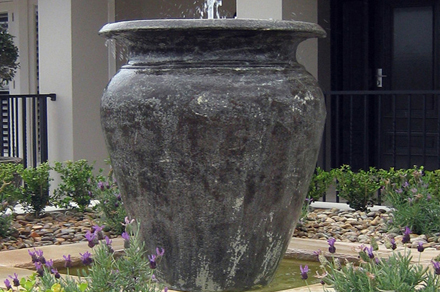 First impressions really do count. A welcoming, well designed entry to your home sets the tone and mood for what lies beyond.
Whether you live in a large suburban house or a small inner city terrace here are five simple garden design tips to make a great first impression at your front door.
1. Make a statement with bold feature pot specimens on either side of your front door, or if space permits place the pot specimens on either side of an interesting garden seat.
Planting hint – Topiary Buxus or Lily pillies are a good choice if there is enough light and Rhapis palms look stunning in a shadier position.
2. Add outdoor furniture to the front garden or front terrace of your house to create a welcoming feel to your home.
Design hint – Think outside the square and explore second hand shops for quirky 50's and 60's classics.
3. Remember that the colour scheme of your house sets the scene and is a great opportunity to make an impact. Consider a bold colour for your front door that complements the surrounding garden.
Planting hint – A red door can look stunning offset with two large black planters spilling over with red geraniums.
4. Consider using fragrant plants at the approach to your front door. It will lift everyone's spirits, including your own!
Planting hint – Use Lavender, Jasmine or Stephanotis for a glorious burst of flowers and fragrance.
5. A water feature near your front door can create a soothing first impression and create design interest.
Design hint – A large feature pot with water spilling into a pond of water lilies or stepping stones across a water course leading to the front door. When lit at night you will get that street appeal wow factor!
About Us
Living Colour Landscapes is all about creating inspirational garden designs. Our Sydney-based landscape designers can help you transform any outdoor space, whether you own a garden, a patio, a veranda or a rooftop space.