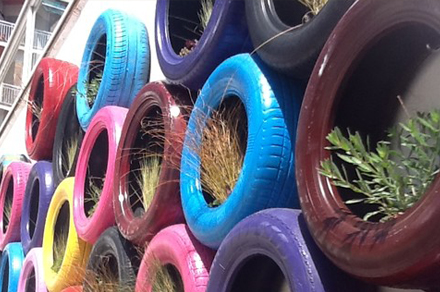 Recycling or using waste materials to make a contemporary design statement in the landscape needs imagination and often a little thinking outside the square. The surprise factor is often in the unexpected or sometimes the beauty and simplicity of how the recycled material has been used.
We've put together six of our favourite examples from landscape designers. Some are colourful, some show a little humour, some use materials in an unexpected way and some are just plain quirky, but all are great design.
Recycled tyres, painted in vibrant colours and attached to the wall as planters are a twist on vertical garden design in this colourful example of recycling along a street wall in Los Angeles.
HBB Landscape Architecture in Seattle, USA has created a temporary installation in a parking space in front of the firm's Seattle office. The installation, including seating, planters and a vertical green wall is made entirely of recycled timber pallets.
We love this child friendly garden design idea from Montreal Living. Recycled rubber has been used to create a colourful climbing wall in this backyard garden. The colourful design makes a striking sculptural design statement for children and adults alike.
This quirky vertical green wall idea is cute and fun, while still making a striking contemporary design statement. The key to this design is simplicity and an unexpected eclectic mix of materials, recycled bottle corks against sleek aluminium panelling.
A combination of colourful yellow ground cover planting, recycled crushed concrete and recycled blue glass makes a striking design statement in this geometric path design.
This use of recycled plastic bottles is a fantastic idea of recycling an everyday object in a new form. By turning the bottles on their side the designers have created the unexpected. Sleek, tensioned wires holding the bottles in a simple repetitive pattern creates added design impact.