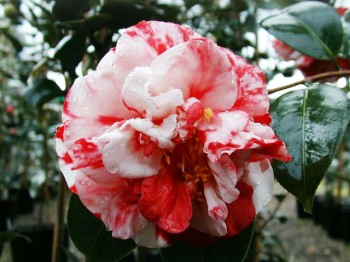 This gorgeous Camellia japonica is called 'Dixie Knight Supreme' and could not fail to lift the spirits on even the dreariest winter's day. And isn't that what gardens are all about – to bring joy into our lives.
Camellias are one of the world's most prolific flowering plants and are hardy and disease free, with the added bonus of attractive glossy green foliage. Camellias flower profusely in the colder months and are tremendously versatile garden plants. The thousands of cultivars now available have been originally bred from just three species: Camellia japonica, Camellia sasanqua and Camellia reticulata. Japonicas and reticulatas make excellent garden specimens for semi-shaded positions, while sasanquas can tolerate more sun and make spectacular clipped formal or informal hedges.
Camellias prefer a slightly acid, humus rich soil with good drainage and protection from the hot sun. For best results mulch well with autumn leaf compost and keep well-watered, particularly when it is hot or dry.
Happy gardening!