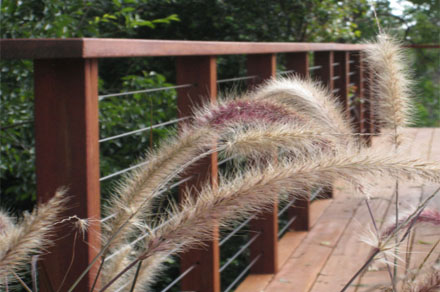 The ornamental grass family contains a huge number and range of plants suitable for use in landscape design in Sydney. Native grasses through their versatility, striking and elegant forms and their beautiful flowers, foliage and seed heads, can greatly enhance a landscape design.
They can be mass planted or used singly as a feature and be grown around pools, along paths or in containers.
Ornamental grasses look particularly stunning when used with contemporary architecture and are an attractive and hardy plant for use in Sydney rooftop gardens.
Ornamental grasses have a lot to offer landscape designers in Sydney, both in form and colour, adding a soft natural look, and have the added benefit of being drought tolerant. They can be used as features, fillers, groundcovers, edging plants and screens. Grasses add upright, simple shapes to the landscape design, and bending with every breeze, they add movement.
The many colours of ornamental grasses go beyond the numerous shades of green to include blue or blue-green, red, russet, purple, yellow and silver and the large range of variegated forms with cream or yellow stripes and margins. The plumes of the flowering spikes of grasses stand high above the clumps and make a spectacular show.
Most ornamental grasses will need little ongoing maintenance, but it is important to keep plants looking their best as you are relying on their form and foliage for effect. Pulling out or pruning dead foliage makes a big difference as does the removal of flowering stems that are past their peak.
Suitable varieties used by our landscape designers are numerous and some particularly interesting varieties include Poa, Swamp Foxtails, Sedges and Rushes, Dianella and Lomandra. The following are our picks from the different groups.
1. Mingo or Blue Kangaroo Grass (Themeda australis) is a blue prostrate form of Kangaroo Grass with rusty red/brown semi prostrate seed heads which flower during summer. Ming has an overall spread of about 600mm and grows to about 150mm – 300mm high. It makes an ideal groundcover and is particularly useful for rooftop gardens, growing well in both part shade or open sunny positions.
2. Black Lea (Pennisetum alopecuroides) is a spectacular, compact, black flowering, clumping, perennial grass with broad arching leaves with showy, black feathery plumes from summer through to autumn. It is great for mass planting, accent planting and borders. It grows to 600mm tall and makes an interesting contrast plant for other Pennisetum alopecuroides varieties. Black Lea is moderately drought tolerant and can cope with the moist conditions often experienced in Sydney.
3. Longhair Plume Grass (Dichelachne crinita) is a lovely, slender, tufted perennial grass with spectacular long silvery-pink plumes in spring. This particular variety performs best in full sun and is an excellent choice for mass planting. It grows to a height of 600mm – 1m.
4. Slender Mat Rush (Lomandra hystrix) is an interesting Lomandra variety which is an unusually shade tolerant grass that will also cope with full sun. This tufted , hardy grass has arching strap-like leaves to 1.3m long with spring flowering yellow-green spikes. Lomandra hystrix is suited to wet soils, requiring ample moisture and is ideal for use around water features, ponds and dams. It is also an interesting choice for planter boxes, where a shade tolerant variety is required.
5. Paroo Lily (Dianella caerulea) is a drought tolerant sedge which forms a lovely ornamental tussock with showy seed heads in spring, growing to a height of 1m and a maximum width of 2.5m. Paroo Lily can tolerate dry and damp conditions and is a small evergreen, tufting perennial with strap-like leaves, compressed into flat fans, forming spreading patches. Flowers and fruit appear over summer with flowers varying in colour from light and dark blue to mauve, with fruit which is a rich translucent purple or cobalt.
Ornamental grasses suitable for use by our landscape designers are many and varied and provide wonderful opportunities for spectacular mass plantings or lovely drifts of swaying form and colour. Set against both contemporary and formal backdrops ornamental grasses are an attractive and environmentally sustainable planting choice for both residential and commercial gardens.