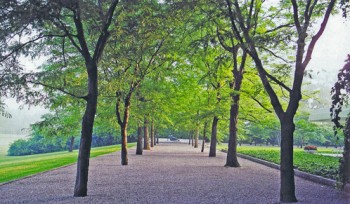 Thomas Church, Garrett Eckbo, Lawrence Halprin and Dan Kiley were leading landscape designers in the modernist period and their pioneering, innovative landscape designs presented new approaches and alternative solutions that have laid the foundations for more recent contemporary landscape designers.
The American landscape designer Thomas Church has been described as the first true 'modern' landscape designer in America. Church was born in Boston in 1902 and studied landscape architecture at Harvard and Berkeley. Thomas Church was the author and pioneer of California Style, where he advocated using asymmetrical plans, raised planter beds, walls that doubled as seating and timber decks.
El Novillero, designed by Thomas Church in 1949, was inspired by the beautiful curved shores of the bay below and the work of Finnish architect Alvar Aalto and became an icon of the twentieth century landscape design. When it was built, its organic shape was revolutionary. The image of this pool transformed the way swimming pools were designed, firstly in California and then across the States over the next thirty years. Through his landscape design work and his book Gardens are for People, Church encouraged the wider public to visualise a real use of space based on a twentieth century modern design aesthetic.
Garrett Eckbo worked as an assistant to landscape designer Thomas Church, learning many of his theories and approaches. Eckbo wrote the book Landscape for Living, which opened new doors into planning and landscape design. Garrett Eckbo admired and was influenced by modern artists such as Miro, Arp and Mondrian.
Eckbo studied at Harvard University with James Rose and Dan Kiley, all three being influenced by the Modern Movement architect Walter Gropius. Early in his career Eckbo was involved in social and agricultural experiments during the New Deal, introduced by President Roosevelt after the Great Depression. Garrett Eckbo, along with his teaching at Berkeley helped revolutionize the modern American landscape design.
Lawrence Halprin began his career as an apprentice landscape designer in the office of Thomas Church in 1945. The McIntyre Garden was Halprin's first large scale commission and many of his ideas were to be incorporated, on an even larger scale, for major waterfalls, plazas and parks in some of his high profile landscape design projects, such as the Franklin Delano Roosevelt Memorial in Washington and Lovejoy Plaza in Portland.
The McIntyre Garden by Halprin contrasts solid, geometric forms with nature. Loosely based on Spanish patio design, with running water in geometric channels, enclosure and an emphasis on a limited number of trees and plants, the garden is low maintenance and its layout encourages exploration. Low walls screen water features which can be heard but not seen, encouraging movement through the landscape and echoing the movement of water.
A master among American landscape designers, Dan Kiley embraced Modernism in the 1930's. After visiting Europe, Kiley strove to build landscapes of clarity and infinity, repeating classical elements in a modern composition.
In the J Irwin Miller residence Henry Moore's Seated Woman reclines gracefully at the end of a perfect French allee of Gleditsia triacanthos, planted across the western edge of the house. Completed in 1955 this was Dan Kiley's first coherently modern landscape design, incorporating the classical elements of French landscape design in a modern context. Around the house the spaces are ordered and geometric. A redbud grove next to the Moore sculpture interlocks with blocks of apple orchards, lawn, an avenue entrance drive and swimming pool, the whole enclosed by staggered arborvitae hedges.
The American architect Frank Lloyd Wright considered the house and landscape one organic whole. As a master landscape designer Wright strove to place his buildings in landscape settings as impressive and beautiful as the houses that surrounded them. In the next blog we'll explore Frank Lloyd Wright's contribution as an architect who was a practiced and impressive landscape designer.