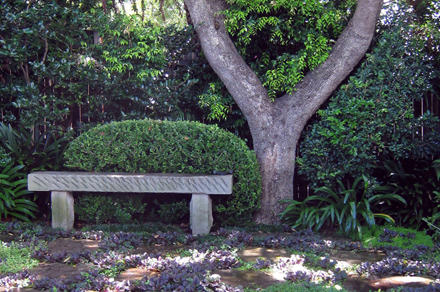 There are broadly two approaches to garden design, the instant, unsuspected 'wow' factor of immediate impact and the more gradual, subtle 'woo' approach, where the appetite is whetted and the curiosity aroused as we are lured on a journey of discovery.
The essence of the 'wow' approach to garden design is that the 'wow' feature
should remain unsuspected for as long as possible. When first seen it must stop us in our tracks.
This heart stopper may be a magnificent view, an inspired blend of colour or texture or a fabulous plant, striking in its form, flower display or heady perfume, a little piece of paradise, which through its planning and design can utterly transport us.
The subtlety of the 'woo' approach is more difficult to achieve but by careful garden design the viewer's step can be anticipated and manipulated. We are gently lured by the half hidden, the heard but not seen, or the tantalizing scent from an unseen source. We glimpse features through a window or open door, through a half screening trellis, hedge or fence. Sometimes our curiosity is aroused by the seduction of a path, curving mysteriously, or from stone pillars or columnar, sentinel trees, positioned either side of a gap in a hedge or gate which invites exploration, or even from the distant murmur of water.
Whether we implement the 'wow' or 'woo' approach however, good garden design relies upon order and discipline. The essence of garden design, the principles of transition, linkage and proportion have evolved over many centuries. These principles are the basis of any modern garden, large or small, formal or informal and the garden design traditions of history are still a rich source of inspiration for garden designers today.
Today changing social and economic factors have brought about increased lifestyle expectations and altered how we live in our houses and apartments and utilize our gardens and outdoor spaces. But one thing hasn't changed. There are few of us who do not respond to the 'wow' and 'woo' of garden design and delight in the simple pleasures that a garden, however small brings into our busy lives.