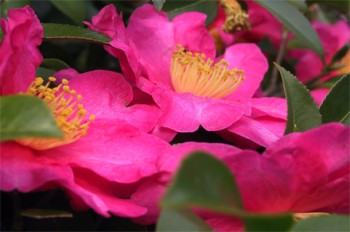 Continuing on from our autumn gardening tips I thought that we'd take a look at the versatile Sasanqua Camellia, a fabulous way to provide a showy autumn flower display in the garden.
Sasanqua Camellias come in a variety of colours from white through to deep pink and reds, with attractive glossy green foliage, creating colourful, autumn flower displays from early autumn through to early winter.
A native of Japan Sasanquas can be used in a variety of ways in the garden from specimen plants through to topiary, espaliered along a wall or as hedges. Sasanqua Camellias make particularly good hedges as they are relatively hardy and fast growing, pest resistant, can tolerate full sun or partial shade and are dense and easy to prune.
Once established Sasanqua Camellias are relatively hardy and prefer a humus rich, well-drained soil. Mulch well to help keep the soil moist in dry spells.
Sasanqua Camellias really do bring a profusion of flowers to the autumn garden and their name translated from Japanese in fact means 'flower of the autumn sun'.
Here are some of our favourite hedging varieties:
• Dream Lover – Deep semi lavender pink flowers, flowering late February to early June.
• Edna Butler – Single soft pink flowers with silvery overtones, flowering mid March to early June.
• Hiryu – Single bright pink to deep rosy red flowers, flowering mid March to early June.
• Jennifer Susan – Informal double clear pink flowers, flowering mid March to mid June.
• Pure Silk – Informal double pink buds opening to pure white shading to pink edges, flowering mid March to end of June.
• Star Above Star – Semi double flowers with white shading to lavender pink at the edges, flowering mid April to September.
• Yuletide – Single glowing red flowers with prominent yellow stamens, flowering mid March to mid July. Yuletide takes a little longer to reach full height but the wait is well worth it.