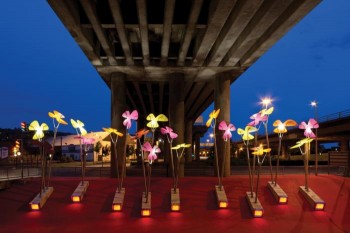 With the Glasgow Commonwealth Games starting today we thought that we'd share this fantastic image of 'Phoenix Flowers', a landscape design project in Glasgow with you.
'Phoenix Flowers' by British architects, Rankin Fraser, is situated in the Glasgow underpass, reconnecting North Glasgow to the City. A surreal sweep of colour, the installation is a single red resin surface, illuminated by a ribbon of fifty coloured aluminium flowers, evoking a memory of the former Phoenix Park.
The wonderfully, slightly quirky and vibrant design activates a previously gloomy and underutilised area for both bicycle and pedestrian activity.