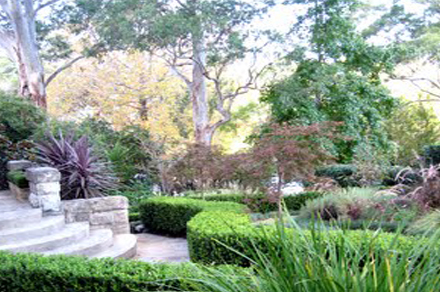 Stephen and I spent a delightful late afternoon wandering around the garden with the new owners, marvelling at the play of light on richly coloured autumn leaves, swaying grasses and clipped box hedges. Autumn is when this garden is at its most colourful with bronzes, blazing clarets, yellows and oranges, set against a tapestry of greens.
The landscaping was redesigned around the original house, designed and built in the 1940 by a prominent Sydney architect of the day. The house design lent itself to a classical and romantic format, with sweeping hedges of box and topiary planting at strategic points along the pathways.
Beautiful, established Eucalyptus trees and exotic deciduous trees added a cathedral like presence to this large North Shore garden and formed 'the bones' of the garden design and landscaping.
Outdoor rooms were created with taller hedging plants such as Syzigium and Murraya to echo the home's architectural elements and to create backdrops for colourful, sculptural plants and a wide variety of native and exotic grasses, that the original owner had a particular passion for.
This wonderfully photogenic landscaping project has been showcased on television in Hot Property and featured in Belle magazine and continues to delight both us and the new owners as it grows towards maturity in this established garden suburb.