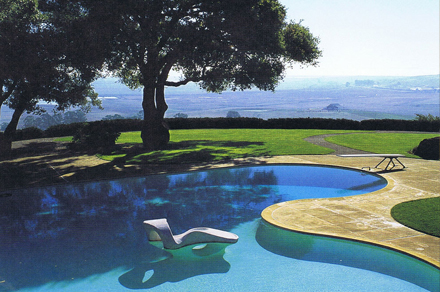 Very little happens by chance and the work by contemporary landscape designers is no exception. There is a rich history in landscape design and to better understand the work of contemporary landscape designers today it is helpful to take a look at the first 'modern' landscape designers to break through the prevailing design conventions of the day.
The first 'modern' landscape designers
The American Frederick Law Olmsted is considered to be the father of modern landscape design, completing a series of parks which continue to have a huge influence on landscape designers and architects today. Among these were Central Park in New York City, Prospect Park in Brooklyn, New York and Boston's Emerald Necklace park system.
Henry Vincent Hubbard received the earliest degree in Landscape architecture as well as city and regional planning. Hubbard wrote many publications, among which An Introduction to the Study of Landscape Design in 1917 co- written with Theodora Kimball became the primary reference for landscape designers and architects during the early part of the twentieth century through to the 1940's and became known as the Beaux Arts approach.
Central to their theme was that:
• Landscape design was to 'create an effect of pleasure in the eye of the beholder'
• Landscape architecture is a fine art
• Landscapes were constructed through the use of axes of provisional paths
• Landscapes were either formal or informal and classified as such
• Landscape experience was based primarily on a preoccupation with views
• Creative adaptions of styles from the past
Many landscape designers however, began to see the approach of Hubbard and Kimball as limiting and sometimes ignorant of spatial experience, context and societal conditions.
A European landscape designer Pierre-Emile Legrain made a landmark contribution to modern landscape design with his 1924Tachard garden in France. His design posed a classical garden composition as an adaptation reflecting a modern attitude about spatial organization. Although the only garden that Tachard designed, his scheme was original in its deliberately inconclusive use of irregular geometric forms and changes of level, which were designed to create varying tones of green and to emphasise the textures of plants. The design comprises a series of garden rooms, including an outdoor dining area, in which the impersonal formal style is juxtaposed against playfully off-beat, off-centre motifs.
Legrain was unusual among his Modernist contemporaries in his sympathy for and understanding of plants. The Tachard garden included a spectacular semicircle of red climbing roses that he described as 'a sacrifice to charm'.
Fletcher Steele, an American landscape designer produced an icon of twentieth century landscape design at Naumkeag, Massachusetts in the 1920's when he designed the Blue Steps. Steele interpreted a classic Renaissance form in a strikingly modern way. A series of blue painted concrete arches, flanked by double flights of stairs and sweeping Art Deco style railings, climb between the gleaming white trunks of silver birches. The birches contrast beautifully with the symmetry of the architecture. Water cascades through the arches similar to an Italian water staircase.
Following on from exploring these early beginnings in modern landscape design, we'll take a look next at the work of some of the most influential modern landscape designers of the twentieth century – Thomas Church, Peter Walker, Garrett Eckbo, Lawrence Halprin and Dan Kiley.
– See more at: http://www.livingcolourlandscapes.com.au/content/landscape-designers-%E2%80%93-history-modern-landscape-design#sthash.Sk5R2Tu0.dpuf