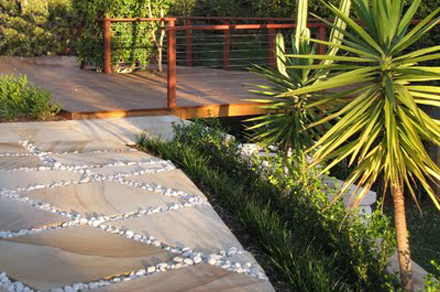 In Sydney landscaping companies are looking for creative garden design solutions to make the most of the rain that falls to the ground on our properties.
Although this year in Sydney we have had record rainfalls, this is not the norm.
As we move through the regular rain cycles however, dryer times will return to challenge us. Sydney's average rainfall is normally about 1200mm and as a result of previous stringent Level 3 water restrictions Sydneysiders have become more conscious of avoiding wasteful over use of water in the garden despite our dams returning to record high capacities.
In Sydney, landscaping design strategies need to create opportunities for residential garden designs that allow the maximum water absorption benefit for our gardens and lawn areas by slowing down the runoff from paths and driveways to take advantage of every precious drop when it does rain. Instead of the traditional 'let's concrete the side paths and the driveway' these areas should be considered as potential areas for water absorption.
When designing garden paths excavate into the soil sub grades and install agricultural pipes, immersed in gravel and flowing to the lawn and garden areas. With many of Living Colour Landscapes' landscaping projects in suburban Sydney we have then installed sandstone treads or large scale pavers with decorative pebbles and native violets to add softness and colour.
For several smaller Sydney properties where there is only a car stand at the front of the residence we have followed the same landscaping procedure as in the pathway method but have excavated to a deeper level so that there is a greater depth of gravel. The sandstone slabs need to be 75mm thick and a reasonable size, say 600mm x 400mm and can be placed on a screeded bed of washed river sand and laid as tracks only, so that there is plenty of room left for planting.
When it does rain the water does not flush into the gutters but makes its way through the stone gaps and plants and into the gravel, reducing runoff and allowing more water to be absorbed over a longer period, well after the rain has ceased.